Inside the Mont-Blanc range
Glaciers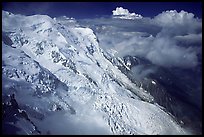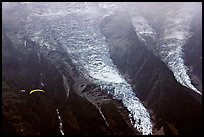 The Bossons glacier is the highest icefall in the Alps. It goes down from the summit of Mont-Blanc at 4807 meters to a mere 1300 meters. The two pictures at the right show alpinists training at the bottom of this glacier, only a quarter of an hour from the parking lot.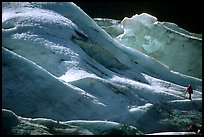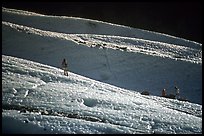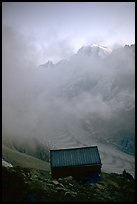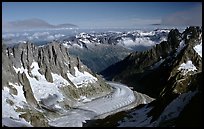 The second longest glacier in the Alps is Mer de glace (aka the sea of ice). It is pretty much like a very slow and solid stream. The building in the foreground of the left picture is an alpine hut, which serves as a base for climbers. The existence of a dense network of huts makes the logistics of alpine climbing considerably easier.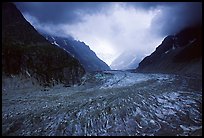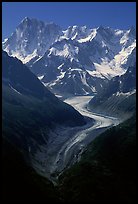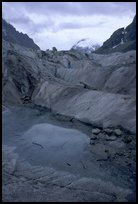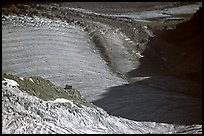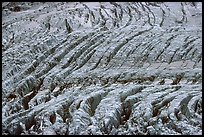 On the close-up of Mer de glace on the left, you can see the Forbes bands, whose shape indicate the differential in flow speed; the Requin hut gives the scale. A closer look on the right show a continuous crevasse field. These are caused by irregularities of the ground on which the glacier moves.


---
Peaks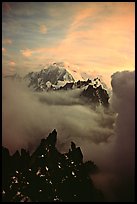 Mont-Blanc, the highest mountain in the Alps, dominates its range. More pictures on Mont-Blanc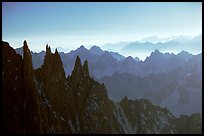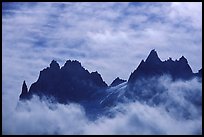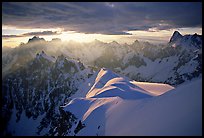 There are spectacularly jagged rock spires all around the range.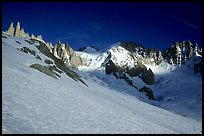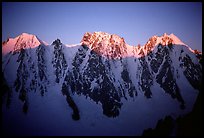 The Mt Blanc range is divided in two by a ridge of high mountains. The left view shows the south side of this ridge, which is rather rocky and moderately steep. The right view show the north side, which forms a formidable barrier of very steep faces. From left to right, there are Les Courtes, Les Droites, Aiguille Verte.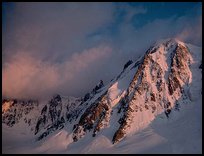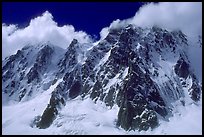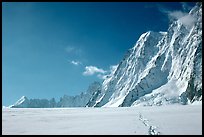 At the north of this barrier, lies the Argentiere Basin, a unique circus of high mountains. The first pictures above show details on mountains of the North side: the North face of Les Courtes and Les Droites, two very steep climbs. The picture below shows the South side, with the Chardonet pass, the starting point of the famous Chamonix-Zermatt ski traverse.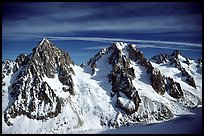 All photos and text Copyright &copy QT Luong