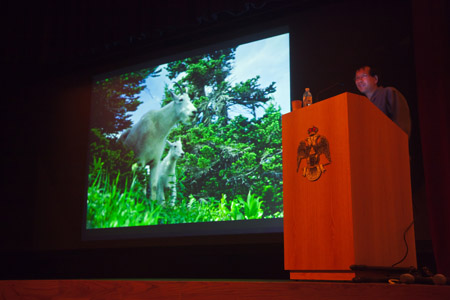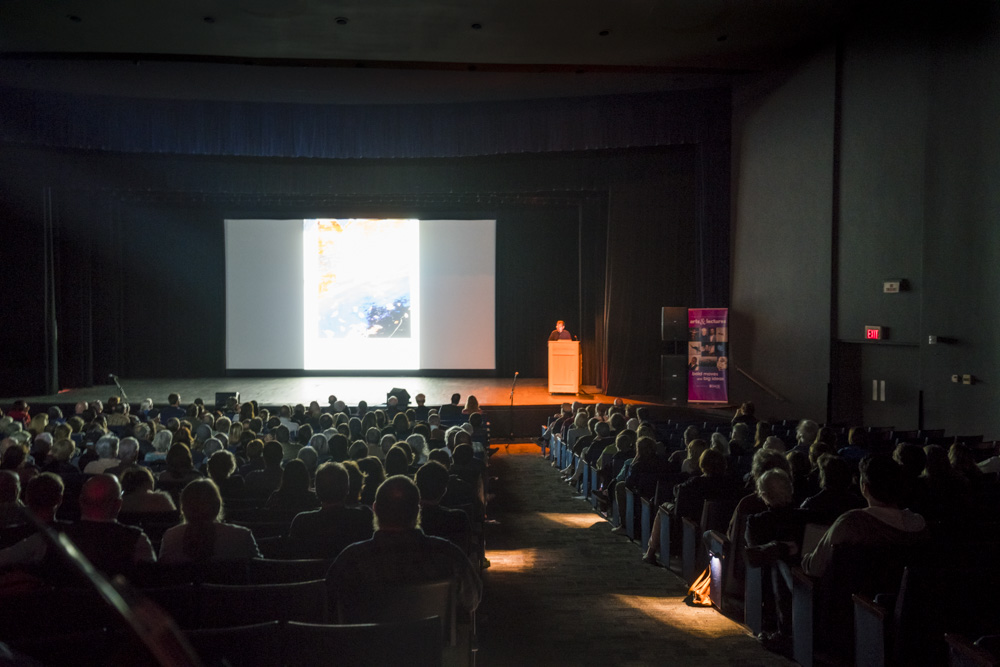 Topics
My most requested presentation is
Treasured Lands
(
details
) with a proven track record of audience appreciation and inspiration. It is an account of my 20-year journey to photograph the 59 U.S. national parks in large format, from the origins of the project to the publication of my multiple award-winning
book
, with an extensive look at wilderness adventures behind the images from Arctic Alaska to the volcanoes of tropical Hawaii, and a few hard-earned photography insights. Including Q&A and a book signing, the event lasts between 1h30 and 2 hours.
Watch the recording of presentation at Google
A Photographic Journey Through All America's National Parks is a whirlwind tour of the country, from canyons and deserts to glaciers and reefs, introducing the incredible diversity and beauty of America's national park system through photographs of each of them. It also provides a behind-the-scenes glimpse of memorable outdoor adventures experienced along the way.
Our National Monuments: America's Hidden Gems a presentation based on the book of the same name, opens the viewers eyes to spectacular and less-traveled alternatives to bustling national parks. Our National Parks and Monuments: A Journey through America's Public Lands combines parts of Treasured Lands and Our National Monuments.
Essential tips for landscape photography is a non-technical introduction to landscape photography structured around 5 essential themes.
I am also happy to prepare custom presentations to meet your organization's specific needs. Presentation lengths can range from 45 minutes to all day seminars. Programs could include photography, travel and outdoors or a combination of both.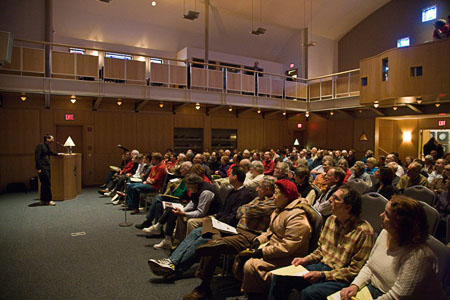 Previous Presentations
SIERRA CLUB ANGELES CHAPTER
October 13, 2022, online
SUNNYVALE PHOTOGRAPHIC CLUB
June 27, 2012. Sunnyvale, CA
CONSERVATION LANDS FOUNDATION
June 16, 2022, online
Recording
HOUSTON PUBLIC WORKS
May 26, 2022, online

SIERRA CLUB SAN GORGONIO CHAPTER
March 16, 2022, online

EXPO 2020 DUBAI - USA PAVILION
February 15-17, 2022, Dubai, United Arab Emirates
USA Pavilion events calendar
USA Pavilion LinkedIn
XPOSURE INTERNATIONAL PHOTOGRAPHY FESTVIAL
February 14, 2022, Sharjah, United Arab Emirates
Festival program
The National News
ALASKA SOCIETY OF OUTDOOR AND NATURE PHOTOGRAPHERS
February 8, 2022, online
CALIFORNIA COLLEGE OF COMMUNICATIONS
Sept 17, 2021, online
VIETNAMESE PHOTOGRAPHIC SOCIETY
July 10, 2021, online
SANTA CLARA CAMERA CLUB
Feb 6, 2020, San Jose CA
NINGBO MUSEUM
May 19, 2019, Ningbo, China

PLEASANTON LIBRARY
February 3, 2019, Pleasanton, CA

SAN JOSE, EVERGREEN BRANCH LIBRARY
January 5, 2019, San Jose, CA

CONTRA COSTA CAMERA CLUB
Oct 25, 2018, Pleasant Hill, CA

RIVER OF LIFE FOUNDATION / 101PHOTOCLUB
Sept 4, 2018. Santa Clara, CA

CUPERTINO LIBRARY
July 16, 2018. Cupertino, CA

GILROY LIBRARY
June 12, 2018. Gilroy, CA

LOS ALTOS LIBRARY
May 1, 2018. Los Altos, CA

GOOGLE
March 15, 2018. Mountain View, CA

MORGAN HILL PHOTOGRAPHY CLUB
March 7, 2018. Morgan Hill, CA

LOS GATOS - SARATOGA CAMERA CLUB
February 26, 2018. Los Gatos, CA

SARATOGA LIBRARY
February 12, 2018. Saratoga, CA
SCC Library District
FOTO MODESTO
February 11, 2018. Modesto, CA
The Modesto Bee
SENIOR ACADEMY, THE VILLAGES
February 8, 2018. San Jose CA

CHINATOWN PHOTOGRAPHIC SOCIETY
Dec 16, 2017. San Francisco CA

OSHER LIFELONG LEARNING INSTITUTE, SANTA CLARA UNIVERSITY
November 2, 2017. Santa Clara CA

LIGHT AND SHADOW CAMERA CLUB
October 10, 2017. San Jose CA

SIERRA CLUB SANTA CRUZ GROUP
September 21, 2017. Santa Cruz, CA
Santa Cruz Sentinel
PALO ALTO CAMERA CLUB
September 20, 2017. Palo Alto, CA
Palo Alto Online
SUNNYVALE PHOTOGRAPHIC CLUB
August 28, 2017. Sunnyvale, CA
ART ARK GALLERY
June 14, 2017. San Jose, CA
The Mercury News
UCSB ARTS & LECTURES
November 2, 2016. Santa Barbara, CA
Santa Barbara Independent Ventura County Star
UCSB COLLEGE OF CREATIVE STUDIES
November 2, 2016. Santa Barbara, CA
CARPINTERIA HIGH SCHOOL
November 2, 2016. Carpinteria, CA
PHOTOCENTRAL GALLERY
October 23, 2016. Hayward, CA
VEGAS VALLEY BOOK FESTIVAL
October 15, 2016. Las Vegas, NV
City of Las Vegas Press Release
FERTITTA MIDDLE SCHOOL
October 14, 2016. Las Vegas, NV
PHOTOCENTRAL GALLERY
February 26, 2016. Hayward, CA
MIAMI COUNTRY DAY SCHOOL
September 9-11, 2015. Miami, FL
LYTRO
June 3, 2013. Mountain View, CA
CONTRA COSTA CAMERA CLUB
May 30, 2013. Pleasant Hill, CA
NATIONAL HERITAGE MUSEUM
September 11, 2011. Lexington, MA
NATIONAL HERITAGE MUSEUM
March 14, 2010. Lexington, MA
NORTHWESTERN UNIVERSITY
March 12, 2010. Boston, MA
NORTH AMERICAN NATURE PHOTOGRAPHY ASSOCIATION SUMMIT
February 19, 2010. Reno, NV
Presentations from the 1990s and 2000s are not listed