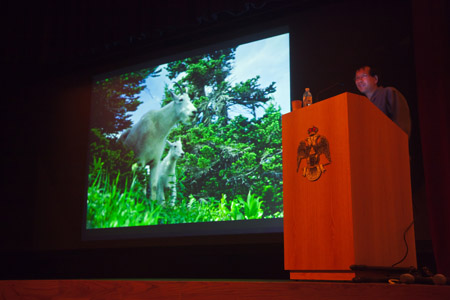 Upcoming Presentations
SAN JOSE, EVERGREEN BRANCH LIBRARY
January 5, 2019, 3:00 PM
2635 Aborn Road
San Jose, CA
PLEASANTON LIBRARY
February 3, 2019, 2:00 PM
400 Old Bernal Ave
Pleasanton, CA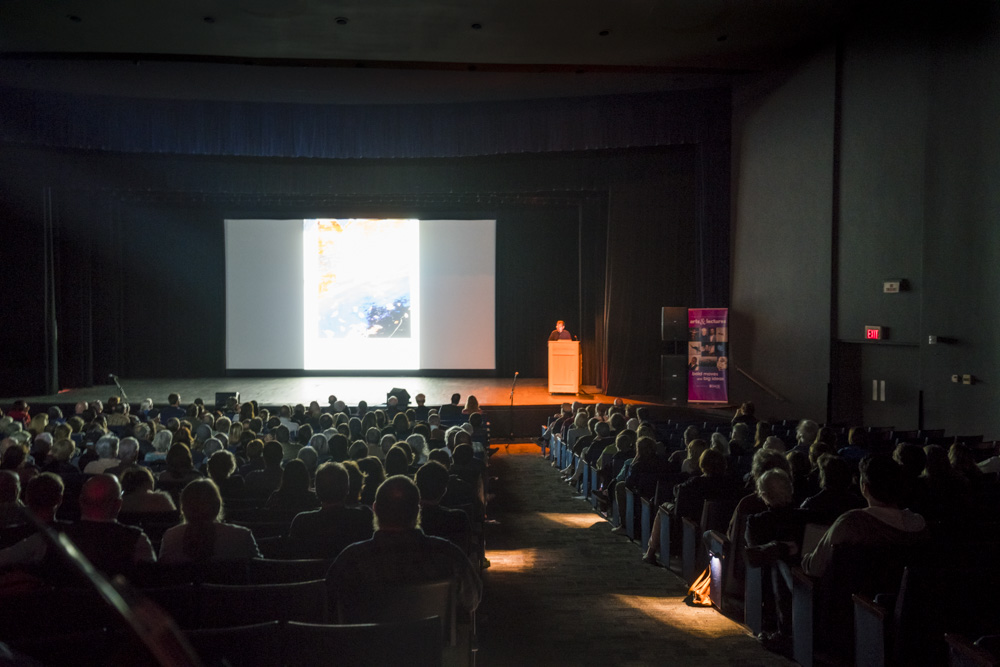 Topics
My most requested presentation is
Treasured Lands
(
details
) with a proven track record of audience appreciation and inspiration. It is an account of my 20-year journey to photograph the 59 U.S. national parks in large format, from the origins of the project to the publication of my multiple award-winning
book
, with an extensive look at wilderness adventures behind the images from Arctic Alaska to the volcanoes of tropical Hawaii, and a few hard-earned photography insights. Including Q&A and a book signing, the event lasts between 1h30 and 2 hours.
I am also happy to prepare custom presentations to meet your organization's specific needs. Presentation lengths can range from 45 minutes to all day seminars. Programs could include photography, travel and outdoors or a combination of both.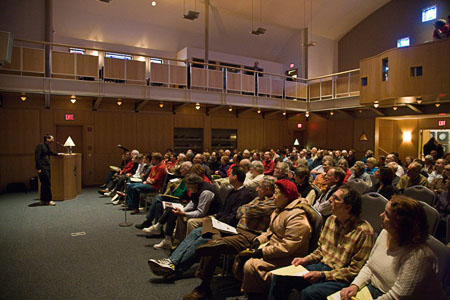 Previous Presentations
CONTRA COSTA CAMERA CLUB
Oct 25, 2018, Pleasant Hill, CA
RIVER OF LIFE FOUNDATION / 101PHOTOCLUB
Sept 4, 2018. Santa Clara, CA

CUPERTINO LIBRARY
July 16, 2018. Cupertino, CA

GILROY LIBRARY
June 12, 2018. Gilroy, CA

LOS ALTOS LIBRARY
May 1, 2018. Los Altos, CA

GOOGLE
March 15, 2018. Mountain View, CA

MORGAN HILL PHOTOGRAPHY CLUB
March 7, 2018. Morgan Hill, CA

LOS GATOS - SARATOGA CAMERA CLUB
February 26, 2018. Los Gatos, CA

SARATOGA LIBRARY
February 12, 2018. Saratoga, CA
SCC Library District
FOTO MODESTO
February 11, 2018. Modesto, CA
The Modesto Bee
SENIOR ACADEMY, THE VILLAGES
February 8, 2018. San Jose CA

CHINATOWN PHOTOGRAPHIC SOCIETY
Dec 16, 2017. San Francisco CA

OSHER LIFELONG LEARNING INSTITUTE, SANTA CLARA UNIVERSITY
November 2, 2017. Santa Clara CA

LIGHT AND SHADOW CAMERA CLUB
October 10, 2017. San Jose CA

SIERRA CLUB SANTA CRUZ GROUP
September 21, 2017. Santa Cruz, CA
Santa Cruz Sentinel
PALO ALTO CAMERA CLUB
September 20, 2017. Palo Alto, CA
Palo Alto Online
SUNNYVALE PHOTOGRAPHIC CLUB
August 28, 2017. Sunnyvale, CA
ART ARK GALLERY
June 14, 2017. San Jose, CA
The Mercury News
UCSB ARTS & LECTURES
November 2, 2016. Santa Barbara, CA
Santa Barbara Independent Ventura County Star
UCSB COLLEGE OF CREATIVE STUDIES
November 2, 2016. Santa Barbara, CA
CARPINTERIA HIGH SCHOOL
November 2, 2016. Carpinteria, CA
PHOTOCENTRAL GALLERY
October 23, 2016. Hayward, CA
VEGAS VALLEY BOOK FESTIVAL
October 15, 2016. Las Vegas, NV
City of Las Vegas Press Release
FERTITTA MIDDLE SCHOOL
October 14, 2016. Las Vegas, NV
PHOTOCENTRAL GALLERY
February 26, 2016. Hayward, CA
MIAMI COUNTRY DAY SCHOOL
September 9-11, 2015. Miami, FL
LYTRO
June 3, 2013. Mountain View, CA
CONTRA COSTA CAMERA CLUB
May 30, 2013. Pleasant Hill, CA
NATIONAL HERITAGE MUSEUM
September 11, 2011. Lexington, MA
NATIONAL HERITAGE MUSEUM
March 14, 2010. Lexington, MA
NORTHWESTERN UNIVERSITY
March 12, 2010. Boston, MA
NORTH AMERICAN NATURE PHOTOGRAPHY ASSOCIATION SUMMIT
February 19, 2010. Reno, NV
Presentations from the 1990s and 2000s are not listed
What Sponsors Are Saying
"It was a pleasure to work with you on a second talk and very rewarding to hear your presentation. Treasured Lands: Journey and Visions was extremely well-received by the 187 of the audience. A great majority of them marked themselves very satisfied on the evaluation questionnaires we distributed."
— Polly Kienle, Public Programs Coordinator, National Heritage Museum
"Everyone really enjoyed it, and many said it was the best talk, yet."
— Eric Cheng, Director of Photography, Lytro
"QT Luong's presentation, Treasured Lands received rave reviews from a capacity crowd of 160 members of the Palo Alto and Bay Area camera clubs and local community. The audience was captivated by the humorous and exciting adventures QT experienced coupled with the spectacular photographs of the national parks. Thank you QT for a delightful and memorable evening. "
— Linda Chin, Special Programs Chair, Palo Alto Camera Club
"A very sincere Thank You for the personal time, effort, creativity, expertise and generosity that you provided the registrants during the recent NANPA Annual Summit in Reno, Nevada. The quality of learning and the appreciation of the attendees at your presentation, National Parks: Tropics to Arctic, was much appreciated."
— Jamie Konarski Davidson, 2010 Summit Chair, North American Nature Photography Association.
"Thank you for coming to Las Vegas and presenting as part of the Vegas Valley Book Festival. I appreciate you taking the time to enhance our community. Your work is absolutely stunning and amazing. "
— Brian Kendall, Cultural Supervisor, City of Las Vegas
"He was wonderful in working with my art students... He was able to connect with the students in a relaxed manner and kept them interested and asking questions. His answers or descriptions often brought ahhs, laughs and more questions. The students were so respectful and seemed to sense that a really special, talented artist was in their midst. They listened with intensity and admired him and his work greatly... My students still talk about him and remember his stories."
— Yvonne Moyer, Art Teacher, Miami Country Day School
"thank you for your wonderful presentation. I have heard many, many members rave about your work. And, congratulations on your book. It is spectacular. One measure of how well received you were is the long line to buy it."
— Michael Schneider, VP for programs, Los Gatos - Saratoga Camera Club
"Counted 120 people. It seemed like more. It was a wonderful presentation! We really appreciated your doing it."
— Trician Comings, Events Committee, Sierra Club Santa Cruz County Group
"He presented many quite beautiful photos of parks, including some in a recently published book ('Treasured Lands'). He was also able to take good pictures of the recent lunar eclipse, as well as many fine shots from the big island, in Hawaii, including a lot of Mono Loa, lava streams, and other interesting features. We definitely recommend him for presenting nature photographs."
— Tom McNeal, Program Coordinator, Sunnyvale Photography Club
"Thank you so much for presenting your wonderful talk to our Osher group yesterday. We were so honored to have you present your remarkable work... Thank you for all you do and for being in our community. We are so fortunate that you have shared your creative talents with us."
— Gail Chaid, Coordinator, Travel Talks Special Interest Group
"Very good presentation! Thank you so much for sharing your experience with all of us."
— Henry Jang, Chairman, Chinatown Photographic Society
"I would like to thank you again for your delightful presentation at The Villages yesterday — we had a good crowd and everyone was very impressed with you and your work."
— John Trudeau, Senior Academy, The Villages
"Thank you so much for offering our community such a wonderful program."
— Pat Oey, Librarian, Santa Clara County Library District
"Just want to tell you again how pleased we were with your presentation last week. I'm truly enjoying your amazing book!"
— Helen Sweet, Education Chair, Contra Costa Camera Club
What Attendees Are Saying
"This was a fantastic presentation - the kind that makes me feel like I should quit my job and split my life between artistry and backpacking. His passion really came through in his talk, and I loved hearing about the practical challenges in taking these breathtaking landscapes in, sometimes, challenging places." - Simon
"It was awesome in the true sense of the word -- awe-inspiring, beautiful, breathtaking. And I really liked his stories." - Vanita
"This was the most engaging lunchtime preso I've seen in my 2 years here. I felt like I was in the presence of a real-deal artist and master of his craft who combined technical mastery of his tools with passion and artistic vision. It's a rare combo... And boy does he deliver beautiful stuff. It was also interesting to see his evolution from landscape to the more dynamic stuff he alluded to. I'm very interested to see what he does next." - Goolie
"Exceptionally modest, incredible work and life story. Couldn't have been more down to earth and approachable." - Adam K.
"Excellent lecture and stunning photographs. It has inspired me to grab my camera and travel more in search of light and landscape! We must protect these precious landscapes!" - Vidya K.
"It was awe-inspiring to see someone so dedicated to capturing nature's beauty and sharing that so others can enjoy. I loved how casual QT sounded when he said Everyone went back, but I decided to sleep on the volcano overnight so I can capture some night time shots" - Alex S.
"Your story is so inspiring, and the camera and video work are stunning. Thank you!" - Judy K.
"Thank you for sharing your beautiful photos and your commentary to explain your visits and your photographic process. There are so many of the parks I have not visited and I felt part of their beauty." - Jacqueline G.
"I was enthralled. QT is one bad-ass explorer. And, so humble and unassuming! I've been to Volcanoes, and like QT, I found myself moved by the formation of land. It was incredible to hear him talk about it, and to be one of the first to see his new time lapse. The guy's pure human inspiration. Hike then sleep atop Mauna Loa? Kayak in Alaska for 10 days? No biggie. It's just what an inspired mind is driven to do. He certainly turned my mundane Monday around." - Nicole
"Beautiful images and incredible journey through the National Parks. Thanks for sharing your adventures and images." - Marie S.